Meet William C. Strupp, Jr., DDS, FAACD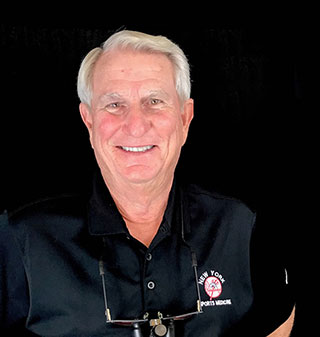 Dr. Bill Strupp was the inaugural speaker at the AACD founding meeting in 1984. Dr. Strupp is an accredited fellow with the American Academy of Cosmetic Dentistry®, one of only 68 people with an AACD fellowship in the world. Fellowship is the highest level of achievement recognized by the American Academy of Cosmetic Dentistry. The status of accredited fellow of the AACD is granted after completion of all requirements.
Dentistry Today, the nation's leading clinical news magazine for dentists, has selected Dr. Strupp as a Leader in Continuing Education in Dentistry. The publication has compiled this list of leaders in continuing education for 19 years, and every year for 19 years, Dr. Strupp has been selected to this elite group of teachers in dentistry. He has lectured to more than 40,000 dentists worldwide and is regarded by his peers as among the "Best of the Best!"
"It is my aspiration to provide dental care at the highest level of quality as humanly possible in an atmosphere of genuine caring and kindness; to teach every patient the proper preventive dental techniques so the patient can keep his/her own natural teeth for a lifetime; to become a positive source of influence for my patients, my family, my profession, and the community at large."
— Dr. Strupp
Professional Experience
Dr. Bill Strupp is a world-class clinical dentist — not just a "wannabe" or an academic type who talks about dentistry but doesn't actually do it. A practicing dentist since 1971, Dr. Strupp does what he says and says what he believes. Over the last 50-plus years, he has become a leading cosmetic and restorative dentist.
Since 1969, Dr. Strupp has placed more than 60,000 units of crowns and bridges. This expansive clinical experience gives him unique insight to ascertain the correct answers in the complex world of crowns, bridges, and aesthetics.
He lectures all over the United States to thousands of dentists every year, and has been published in many prominent dental publications.
The Dentists' Dentist™
Dentists from all over the world travel to Clearwater to attend seminars presented by Dr. Strupp. Many of those who attend regard his programs as the best continuing education courses on crown-and-bridge aesthetics and new techniques in dentistry today. Many other dental colleagues come to his office to observe his chairside clinical techniques. Still others and their families are patients. He is truly the dentists' dentist.
Education
Valedictorian, Greenville High School – Greenville, Florida, 1963
Oxford College of Emory University – Oxford, Georgia, 1965
Emory University School of Dentistry – Atlanta, 1969
Current and Past Professional Associations
American Academy for Oral Systemic Health (founding member)
American Academy of Cosmetic Dentistry (accredited fellow)
American Academy of Fixed Prosthodontics (lecturer)
American Equilibration Society (lecturer)
Academy of Operative Dentistry (lecturer)
American Prosthodontic Society (lecturer)
American Academy of Implant Prosthodontics (lecturer)
American Academy of Periodontology (lecturer)
International Academy for Sports Dentistry
American Dental Association (life member)
Florida Dental Association (honorable fellow)
West Coast Dental Association (lecturer)
Upper Pinellas County Dental Association (past president)
Florida Academy of Cosmetic Dentistry (past president)
Gulf Coast Dental Research Association (past president)
International College of Dentists (fellow)
L.D. Pankey Alumni