---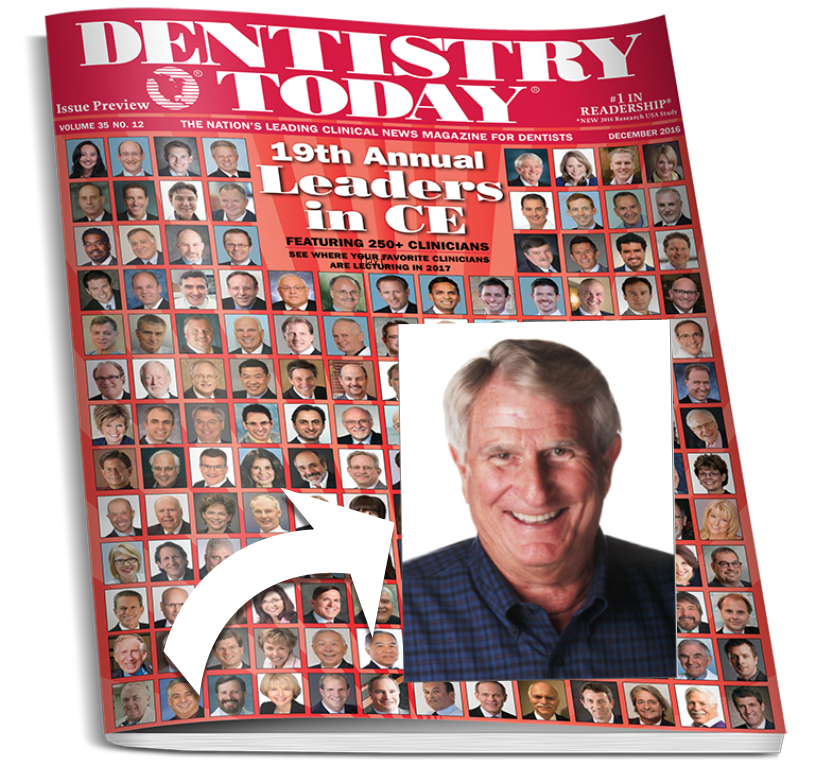 Dentistry Today, the nation's leading clinical news magazine for dentists, has selected Dr. Strupp as a Leader in Continuing Education in Dentistry. Dentistry Today has compiled this list of leaders in continuing education for 22 years. Every year for 22 years, Dr. Strupp has been selected to this elite group of teachers in dentistry. He has lectured to more than 40,000 dentists worldwide and is considered by his peers to be the "Best of the Best"!
---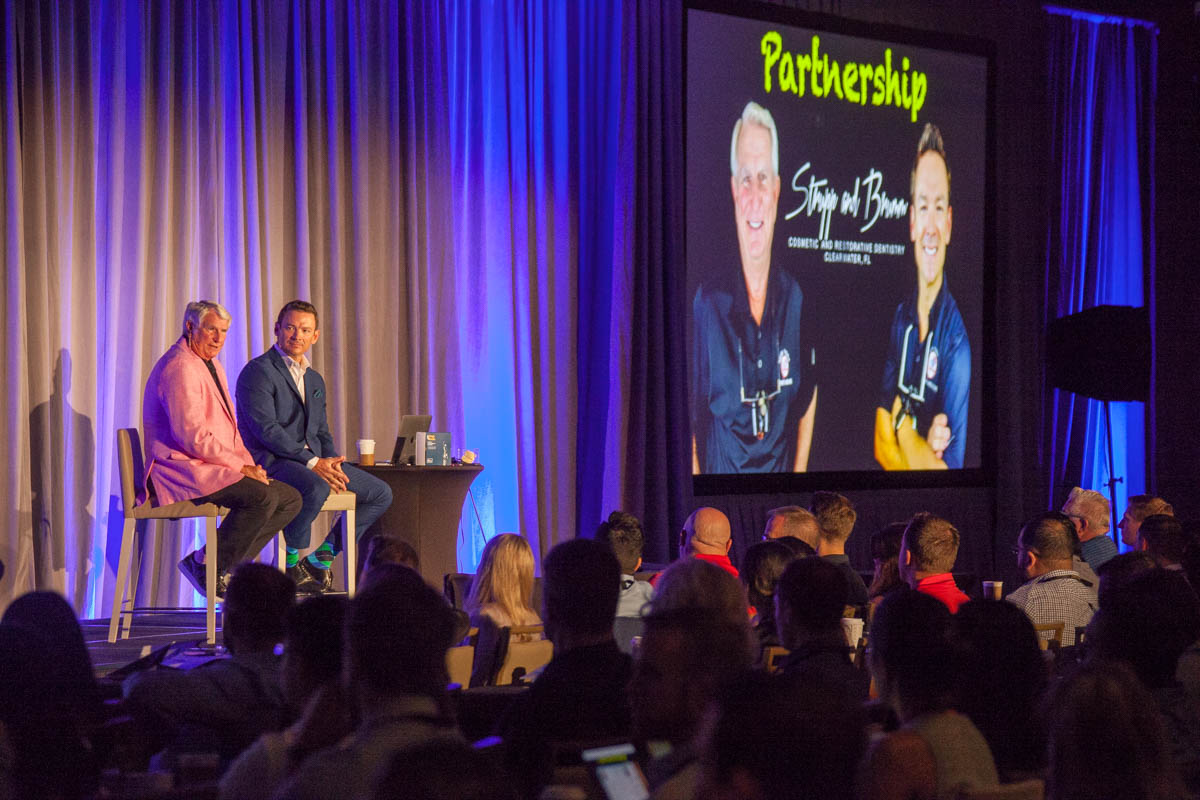 ---
The Dentists' Dentist™
What does it mean to be a "Dentists' Dentist"? Being praised by your dental peers for the quality of work you provide — not only to patients but to dentists themselves — is one of the highest honors Dr. Strupp receives. Dentists know what quality work looks and feels like; who better is there to judge?
---
"There is another level in dentistry … it's called 'Strupp.' "
— Dr. Eric Roman, Fayetteville, NC
---
"In the early 90s I took Bill's course and was improving my knowledge in reconstruction and gold restorations. Bill placed eight gold onlays for me in 1992. This was the best dental investment that I have ever made. I have since attended his reconstruction courses to enhance my clinical skills. Bill is world-class and still has great passion, both clinically and when teaching!"
— Dr. Ron Richardson
---
"Bill Strupp is a true master. He is one of the finest clinicians on the planet and has the unique capacity to translate that to being one of the finest dental educators in the world. His meticulous attention to detail, coupled with his organizational skills, leads to a clinical outcome that is unparalleled. A large majority of his patients are dentists (or their partners) who have experienced his seminars, seen his exquisite work, and have chosen him, above all others, to do their restorative work. That speaks volumes."
— Charles F. Troxel, Jr., DDS
---
"If you can handle the truth, this is the course for you. If you cannot handle the truth, don't waste your time attending Dr. Strupp's lectures. Dr. Strupp's course will provide you with the most straightforward and concise methods to demystify the myths about complex cases in dentistry."
— Dr. Lynn A. Jester
---
"I will never be able to thank Dr. Bill Strupp enough for teaching and guiding me early in my career to build a successful C&B restorative practice. My family, my staff, and most important, my patients are thankful for Dr. Strupp helping me achieve the highest level of quality of dentistry available that we currently enjoy and provide. If you pride yourself on being a superior restorative dentist, this course should be mandatory! I've been across the country and have attended almost every well-respected postgrad CE program available, and can guarantee, the ROI (return on investment) on this course is unmatched, and the reason I return every year."
— Allen Prevette, DDS, Charlotte, NC
---
"Looking for a non-biased, no-holds-barred approach to elevate your dentistry? Run, don't walk, to hear Dr. Strupp."
— Dr. Ron Evans
---
"Dr. Strupp is the godfather of crown-and-bridge dentistry. His experience and results are unmatched in our profession today."
— Dr. Clifton Cameron
---
"Dr. Strupp is a straight shooter and tells you like it is and how his protocols work. The course truly simplifies complex cases without the pretentious attitude found in other courses!"
— Dr. Chris Francese
---
"To be the best – hear the best."
— Dr. John Lindeman, Indialantic, FL
---
"I thought that I was a pretty good operator who paid attention to detail. Now I know I can do better after hearing Dr. Strupp."
— Dr. Michael Flynn, West Allis, WI
---
"I want Dr. Strupp to restore my mouth. What else can I say!!"
— David Schwartz, DDS Great Neck, NY
---
"Thank you, Dr. Strupp, for achieving excellence and incorporating sound science and smart solutions to everyday dentistry."
— Beth Bordon, DDS Greensboro, NC
---
"Dr. Strupp shows dentists the road to mastery."
— Steven Roth, DMD New York, NY
---
"Bill continues to raise the bar higher and higher for the best dentistry has to offer. Thank you."
— Gerald Alexander, DMD, New Haven, CT
---
"Makes complex cases easy with much less stress for all involved – the patients, the assistants, and the dentist."
— Greg Burns, DMD, Macon, GA
---
"Worth coming from the other corner of the country."
— Kevin King, DDS, Spokane, WA
---
"Never a wasted moment. Never a wasted word."
— Mike Call, DDS, Saginaw MI
---
"Bill continues to raise the bar higher and higher for the best dentistry has to offer. Thank you."
— Gerald Alexander, DMD, New Haven, CT
---
"Amazing – Bill Strupp proves again he is the best restorative dentist in America – plus, he teaches you to simplify the hardest cases with a logical simple step-by-step protocol."
— Bob Grillo, DDS, S. Windsor, CT
---
"I have followed and heard Bill many times over the last 15 years and he never fails to amaze me with his knowledge and dedication to practice and teach world-class dentistry."
— Richard Cavallaro, DDS, Lemon Grove, CA
---
"This is high-end stuff. I'm fresh out of school and can take this information to help develop my philosophy for practice."
— Kyle Mortensen, DMD, Bakersfield, CA
---
"This was the best, simplest explanation of CR-CO and VDO that I have seen in almost 30 years of dentistry!"
— Dr. Prince Arrington III, Apex NC
---
"Dr. Strupp's presentation of the material not only leaves you feeling that you have all the information you need to do the treatment necessary, but that you are able and wanting to go back to the office and do it!"
— Dr. Keith Melaas, Warren, MI
---
"Extremely complex concepts simplified into information that can be understood and applied by anyone."
— Dr. Jonathan Ludwig, Leland, NC
---
"I have been going to a lot of seminars for the last three years trying to finish my CE credits required for the MAGD and by far the weekend with Dr. Strupp was one of the best CE that I have taken."
— Dr. Rodrigo De Marco, Winter Springs, FL
---
"This course is by far the best course I have ever taken, which truly helps simplify complex cosmetic and restorative cases."
— Donato Napoletano, Middletown, NY
---
"Dr. Strupp is a straight shooter and tells you like it is and how his protocols work. The course truly simplifies complex cases without the pretentious attitude found in other courses!"
— Dr. Chris Francese, Jamestown, NY
---
"One of the best seminars I have attended in 31 years of practice. Great explanation of all ceramic choices for restorations. Tissue response was beautiful."
— Dr. Mike Hatchett, Jacksonville, TX
---
"I wish I would have taken this course 15 years ago. Dr. Strupp knows his craft and is a true artist. I believe he inspires all of us to be better dentists."
— Dr. Elisa Suarez, Miami Lakes, FL
---
"I saw Dr. Strupp ten years ago. Information presented at that time changed the way I practiced, especially with diagnosis and treatment planning of large cases … still relevant today."
— Dr. Lawrence Coffin, Jr., Lancaster, PA
---
"One of the most entertaining, informative, and interactive speakers I have ever heard!"
— Dr. Hal Rider, New Iberia, LA
---
"If you can handle the truth, this is the course for you. If you cannot handle the truth – don't waste your time attending Dr. Strupp's lectures. Dr. Strupp's course will provide you with the most straightforward and concise methods to demystify the myths about complex cases in dentistry."
— Dr. Lynn A. Jester, Louisville, KY
---
"It's a humbling eye-opener that has motivated me to elevate the quality of treatment I provide for my patients."
— Dr. Parimal Panchal, Wilmington, NC
---
"I wish I would have taken this class when I first got out of school!"
— Dr. James Holt, Southlake, TX
---
"This was a wonderful course and I will bring these ideas and techniques back to my office."
— Dr. Joan Kirschner, Merrick, NY
---
"Great lecture. Great lecturer, well run. I will be back."
— Dr. Robert P. Stowe, Winston Salem, NC
---
"Looking for a non-biased, no-holds-barred approach to elevate your dentistry? Run, don't walk, to hear Dr. Strupp."
— Dr. Ron Evans, Rockwall, TX
---
"This seminar was very informative. I'm very glad I invested in this opportunity so early in my career."
— Dr. Heather Johnson, Grand Forks, ND
---
"Great course! Worth the time and cost."
— Catalin Teodoru, Clermont, FL
---
"Excellent overview of restoration on complex cases, including cosmetics, occlusion, and function."
— Dr Meredith Galloway, Bradenton, FL
---
"It's the kind of course that those of us who practice in the trenches need to hear to get us out of the trenches."
— Dr. James C. Martin, Auburn, AL
---
"I have been practicing for 35 years. After this presentation, I need a full week with no patients to study the material presented and to implement the changes."
— Dr. Yohama Lorenzo, Miami, FL
---
"Dr. Strupp delivered all techniques and methods to create excellent, beautiful, and predictable results."
— Dr. Michelle Morrow, Belfast, ME
---
"All the dentists, especially new dentists, should take this class. The knowledge that you will gain from Dr. Strupp will be valuable for your career. You will become a better clinician after this class."
— Dr. Nathan Ho, Roanoke, TX
---
"Concise, informative, accurate knowledge to perform healthy, aesthetic, and functional restorative dentistry."
— Brent William, Springdale, OH
---
"Excited to do some full arch restoration. Never thought I would be close to comfortable taking on such a task."
— Dr. Laura Scott, Liberty, KY
---
"As a recent graduate, this course motivated me to be the very best dentist I can be by instilling the techniques Dr. Strupp presented."
— Dr. Daniel Fenton, Boca Raton, FL
---
"I will definitely come back!"
— Dr. Michelle Buechele, Leesburg, FL
---
"To be the best – hear the best."
— Dr. John Lindeman, Indialantic, FL
---
"A well presented, organized, fact-filled seminar. Lots of 'pearls' to take back to the office."
— Dr. Paul Stasiewicz, Alexandria, VA
---
"Very informative and a full two days of fun."
— Dr. Karen Williamson, Rockwell, TX
---
"Sound, simple concepts presented in a fast-paced manner. Enlightening, humorous, and informative!"
— Dr. David Bennett, Dublin, OH
---
"Very good seminar; it showed me techniques I can use right away to improve my practice."
— Dr. Carlos Marques, Miami, FL
---
"Great basic principles for providing long-lasting, precise dental treatment for all patients."
— Dr. Matthew Grabowski, Apex, NC
---
"A fantastic opportunity to learn step-by-step protocols for everyday dentistry from a leader in cosmetic dentistry."
— Dr. Nathan Lester, Evanston, WY
---
"Bill Strupp is a captivating lecturer who actually has experience to back up what he says! Changed my dentistry."
— Dr. Caprice Dakwar, Rochester, NY
---
"An experienced, talented, entertaining lecturer with down-to-earth solutions for problems."
— Dr. Franklin Ward, Orlando, FL
---
"Dr. Strupp allows you to learn from his mistakes."
— Dr. Jennifer Vermillion, Summit Hill, PA
---
"Very down-to-earth and useful information."
— Dr. E. Puddicombe, Webster, NY
---
"I thought that I was a pretty good operator who paid attention to detail. Now I know I can do better after hearing Dr. Strupp."
— Dr. Michael Flynn, West Allis, WI
---
"Bill Strupp continues to set the standard in dental CE, is thorough, up to date on materials and techniques, and not afraid to tell it like it is."
— Dr. Bob Grillo, South Windsor, CT
---
"As a recent grad from dental school, I would recommend this course to anyone who wants to increase the quality of their dentistry."
— Dr. Zachary Grillo, South Windsor, CT
---
"I heard Dr. Strupp two years ago. This information has changed the way I practice. I am more productive, my preps are different, and there is a greater focus on promoting healthy, biologically excellent dentistry."
— Brad Russell, DMD, Columbia, MO
---
"Very thorough, honest, straightforward approach."
— Jeff Evans, DDS, Findlay, OH
---
"Just Do It. You won't have a better experience learning from anyone else."
— Chris Reneer, DDS, Gordon, NE
---
"Dr. Strupp is so knowledgeable and experienced while remaining so realistic and personable. Everyone was given respect when answering questions."
— Brian L. Hasse, DDS, Wichita Falls, TX
---
"He doesn't just talk about theory, he talks about what works and what doesn't. He shows his successes and his failures and how to avoid them."
— David Porter, DDS, LaPorte, IN
---
"Excellent Course – I go to many seminars – Dr. Strupp's no-nonsense approach is refreshing, sincere, and applicable."
— David Schaefer, DMD Louisville, KY
---
"I should have taken this course ten years ago."
— W. Darrel Fain, Prescott, AR
---
"Learned techniques that can be put into my practice immediately."
— Kayleen Quinn, DMD Ocala, FL
---
"Dr. S delivers a high-quality presentation in a no-nonsense approach to excellent, repeatable dentistry."
— Roger Fender, DDS, Lees Summit, MO
---
"This lecture could change your entire practice if implemented fully."
— Mark Ballinger, DDS, Timonium, MD
---
"Dr. Strupp says it like it is in easy-to-follow steps. The man is a riot!"
— H. Williams, DMD, Homosassa, FL
---
"Thank you, Dr. Strupp, for achieving excellence and incorporating sound science and smart solutions to everyday dentistry."
— Beth Bordon, DDS, Greensboro, NC
---
"This seminar is the best seminar for teaching quality crown and bridge."
— Brad Nicholson, DDS, Carbondale, CO
---
"Dr. Strupp does a good job of blowing the smoke away and making things clear."
— Thomas Albiero, DDS, Germantown, WI
---
"The most complete, unbiased, full-arch dentistry course I've ever seen."
— David Hill, DDS, Sherwood, AR
---
"Best seminar ever attended. It is a must at least every five years. This is my third in 20 years."
— John Schwerer, DMD, Ft. Pierce, FL
---
"Dr. Strupp shows dentists the road to mastery."
— Steven Roth, DMD, New York, NY
---
"Great seminar that simplifies restoring oral tissues and dental rehab using scientifically based methods. Excellent care for lifetime health."
— Dale Giesting, DDS, Brookville, IN
---
"This lecture will provide information for a clinician at any level in their career to implement immediately."
— Pauline Jiddou, DDS, Commerce Township, MI
---
"I attended seminar 20 years ago, the material presented has evolved and is pertinent to today's style of quality practice. Dr. Strupp has always been ready to help dentists achieve their clinical goals. He has been instrumental to my success!"
— Tony Agapis, DDS, Chester, VA
---
"Bill's presentation is a 'must attend' for any clinician practicing in the 21st century."
— Rick Rasmussen, DDS, Tampa, FL
---
"I like repeating this program. Since the last time I attended, I have been able to do more complex cases with greater confidence and success."
— Michael Berry, DDS, Moberly, MO
---
"Not your average drill-and-fill seminar. Recommend for anyone involved with full-mouth rehabilitation and perfection."
— Rein Dickerson, DDS, Mineral Wells, TX
---
"This has been the best course I've taken in years. I learned more here than what I learned in dental school and many other courses on this topic."
— Omayra Torres, DMD, Davenport, FL
---
"Dr. Strupp really knows his stuff. He's Pankey, Dawson, LVI rolled in one!"
— Josephine Weber, DMD, San Francisco, CA
---
"If you are driven to 'do it right,' this is the seminar for you."
— Greg Sopel, DMD, Horseshoe Bay, TX
---
"This seminar was excellent for accelerating my confidence in restoring more complex full-mouth cases by getting rid of all the occlusion confusion caused by the 'gurus' these days."
— Marc Alber, DDS, Boulder, CO
---
"As a dental technician, the seminar helped me gain more knowledge to pass on to my dental customers and suggest they attend this type of educational seminar to increase their dental knowledge."
— Ric Herbert, CDT, Apopka, FL
---
"Truly simplicity is the other side of sophistication. Thank you, Bill, for speaking honestly about hot topics and guiding us toward simplicity."
— Wayne Kinney, DDS, Indianapolis, IN
---
"He provides a simple, straightforward view of restoring complex cases. He shows how most people are making dentistry too complicated."
— Derek McKaskle, DDS, Katy, TX
---
"Most pearls I've ever collected from one seminar / one lecturer."
— Kristin Shinnick, DMD, Dhalimar, FL
---
"Bill provides a no-nonsense, practical protocol that results in a predictable restorative outcome that anyone can achieve."
— Nick Utz, DDS, Uncasville, CT
---
"This seminar definitely gets you thinking outside the box. You can now begin to see dentistry in a whole new light."
— Richard Fernandez, DDS, Canyon Country, CA
---
"A very enlightening experience that really does simplify the process of treating the whole mouth."
— Paul Larsen, DMD, Bountiful, UT
---
"I have followed and heard Bill many times over the last 15 years and he never fails to amaze me with his knowledge and dedication to practice and teach world class dentistry."
— Richard Cavallaro, DDS, Lemon Grove, CA
---
"One of the first seminars I was excited to go to. I was looking forward to learning something new and I wasn't disappointed."
— Mia Concepcion, DDS, Fullerton, CA
---
"This course covers every aspect of of restoring gingival health and giving the patient a beautiful smile. I'm motivated."
— Bonnie Morehead, DDS, Manteca, CA
---
"Dr. Strupp is a real honest dentist and the wisest of doing the very difficult procedures and knows how to teach us to follow his philosophy in dentistry."
— Laura Lam, DDS, San Jose, CA
---
"This is high-end stuff. I'm fresh out of school and can take this information to help develop my philosophy for practice."
— Kyle Mortensen, DMD, Bakersfield, CA
---
"Excellent seminar – excited to go back to my office and implement these concepts."
— Andrew Rowe, DDS, Alameda, CA
---
"Very comprehensive and informative course. Boatloads of information presented and covered."
— Douglas Johansen, DDS, St. Joseph, MI
---
"This seminar can simplify your life as a dentist (not with your spouse!)"
— Catalin Constantin, DDS, Minneopolis, MN
---
"The knowledge given has sparked within me the choice to change what the heart of my practice story will become. Thank you most graciously."
— Steven Schmidt, DDS, La Crosse WI
---
"Every concept will improve your practice."
— Todd Gillan, DDS, Lowell MI
---
"Invaluable information at a mile a minute. Dr. Strupp's integrity level seems to be what motivates his findings and intentions."
— Jim Fakler, DDS, West Allis WI
---
"The biggest regret of my career is not hearing Bill earlier. I've been practicing 20 years and didn't hear him until three years ago. He has changed the way I practice dentistry."
— Daniel Paulos, DDS, Chicago IL
---
"One of the best technical courses I have taken that allows relatively easy implementations in my office."
— Mark Schaffer, DDS, Fargo MD
---
"Never a wasted moment. Never a wasted word."
— Mike Call, DDS, Saginaw MI
---
"This seminar has dispelled some misconceptions about the difficulty of treating comprehensive cases."
— Steven Dawson, DMD, Jerseyville IL
---
"This is the third time I have been to Bill's seminar. He continues to prove to me and the rest of the dental world that excellence is achievable and completely dependent on the dentist! Everyone is capable of doing great dentistry. Bill shows this to everyone — not everybody makes the decision to do the things that make things work, work well, and work for a lifetime. This is a very sad but true testimony to this profession. Bill is a TRUE professional and someone that obviously cares about what he does and tries to help others do the best dentistry possible. Really wish more people on the lecture circuit had the same thought process!"
— Mark Panneton, DDS, LaVista NE
---
"This seminar is the practical seminar that you can put all systems and materials to work right away."
— Caroline Berman, DMD, Miami FL